Roof Hail Damage Repair Houston Tx
A hail storm can be a scary event.
You run to check that the windows of your car didn't shatter, that your property is okay, but often neglect the roof of your house. Even if you did think to inspect your roof, it's likely that you didn't notice the damage if you are looking from the ground.
Even the smallest hail can damage your roof. The extent of the damage depends on a handful of factors. This will include the size of the hail, wind speed and direction, as well as the material of your roof and it's age.
When hail is over one inch in diameter, the damage will be much more apparent than it will be when it's smaller. Smaller hail is going to require a trained eye to spot the damage.
This is why having your roof inspected as soon as possible after a hail storm is important. We are prepared to assist you for any hail damage repair Houston needs you might have.
Here's what we'll look for when we come out to your home or business:
Granule loss


These granules give the shingle the sandpaper texture and act as a barrier for protection. When a shingle loses granules, it breaks down the shingle's protection and exposes it to the elements, therefore, accelerating the aging process. We'll take a look at your gutters and downspouts to see if there are any granule loss.

Cracks in the shingles


Depending on the severity of hail and wind, it can crack the shingles exposing your roofing deck. This needs to be repaired as quickly as possible, as your roof is no longer being protected.

Weakened self-seal strip


If the self-sealed strip becomes weakened, the integrity of your shingles will be affected, and there's a risk of them blowing off. This causes exposure to potential leaks and may result in the surrounding shingles to come loose, as well.
After inspecting the roof and assessing the damage, we'll give you an estimate on the repairs, if any.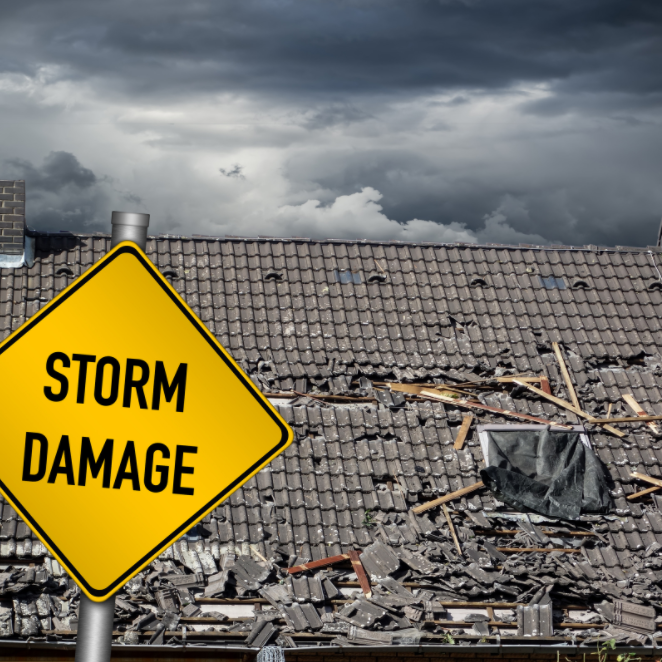 Hail Damage is Often Covered by Insurance Companies
We'll Help You Prepare Your Hail Damage Insurance Claim
Most insurance companies cover hail damage, but they never make things simple, do they? Take a deep breath and we'll take care of the rest. We'll help you gather all of the necessary information so that you can maximize your claim.
If you have already filed a claim and they said that there wasn't any damage, we can still help you. We know this can be frustrating, but we can help these claims get paid. Here's what you can expect when we handle your claim for you:
We'll come out to do a complete inspection of your roof for any wind or hail damage, even if another roofing company did this.
We'll document any of the damage and ask that you schedule a meeting with your insurance adjuster to go review the damage together.
As soon as your insurance company approves the estimate and releases the funds, we can help you pick your new roof or find matching shingles for the repairs.
Then get started once the claim is approved and we've received the permits to start working.
When the job is done, we will finish the paperwork with your insurance company so they can release the remaining balance.
Are you looking for installation services for the highest-quality roofing systems in Texas?
Houston Hail Damage Repair Experts
Repairing the damage is often as simple as replacing the shingles that have been compromised. It's very unlikely that you're going to need to replace the entire roof, but it's not uncommon.
If you ignore this damage, there's no doubt that it will eventually lead to leaks that will cause mold damage, electrical issues, and rotting wood. These are extremely expensive repairs. Mold is difficult to detect, and if you breathe in these mold spores, it can make you sick.
If you're concerned about the potential damage that hail may have had on your roof, give FSR Services a call today. Our team of experts are qualified for all hail damage repair Houston Tx sees and we will help you locate and understand the damage caused by hail and winds. Our hail roofing inspections are free, so you have nothing to lose when you have us come out to look for any signs of damage.
Whenever you have damage from a storm, it can be stressful, and having to deal with the insurance companies can make it even more difficult. We offer the best roof repair Missouri City Tx and the Houston surrounding area has when it comes to hail damage because we specialize in helping you prepare your insurance claims and getting the repairs done.